This year to commemorate our 30th anniversary, HomeEquity Bank teamed up with a celebrity spokesperson to take our brand awareness to another level.
The celebrity spokesperson was not an overnight decision but rather a detailed exercise that was started in early 2015. Initially, 70+ candidates were filtered through and eventually a top 10 was determined and approached for research. The final result was a clear choice and a perfect fit to represent HomeEquity Bank.
Below is an illustration of our final 4 candidates. The indexed results listed in the chart are based on the results of surveys conducted with a focus group of Canadians 55+ in both Toronto and Vancouver. From January to February 2016, we met with these 4 candidates and, based on many factors, including the results from the focus group surveys, we selected our HomeEquity Bank celebrity Spokesperson.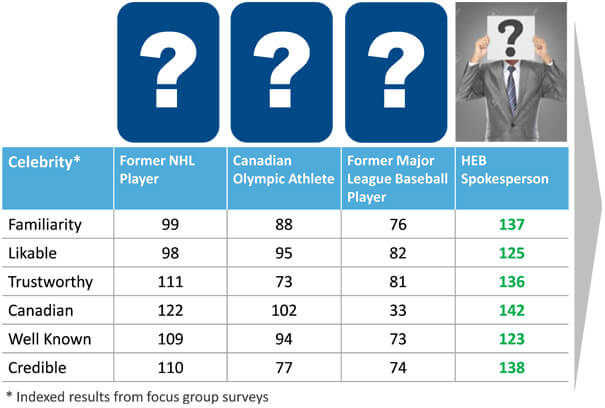 Key perspectives from research:
"Honest, engaging, well liked"
"A clean-cut, and honest individual. Anytime I have seen him, I thought he was believable and straight-forward"
Without further ado…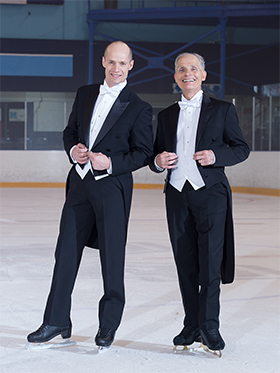 Kurt Browning is happy to be the face of HomeEquity Bank and we are honoured to have him represent our brand. When we first spoke with Mr. Browning, he was delighted to be working on this new project with us. He even brought his friend, legendary Canadian figure skater Donald Jackson, to join him in the commercial shoot.
To commemorate this partnership with us, they choreographed a routine together and performed it at recent figure skating shows in Hamilton and Toronto and dedicated the performance to HomeEquity Bank.
It has been an honour to work with these two legends and we are so excited to take our partnership to the next level by showing Canadians what incredible people they are. Over the next while, we will be posting more blogs, images and videos with our new partners and we can't wait to reveal the many upcoming surprises we have up our sleeves.