The CHIP Reverse Mortgage for Canadians 55 and over
Access up to 55% of your home value in tax-free cash!
Keep the home you love
No monthly mortgage payments
Get Your Free Estimate
The CHIP Reverse Mortgage for Canadians 55 and over
Access up to 55% of your home value in tax-free cash!
Keep the home you love
No monthly mortgage payments
Get Your Free Estimate
What is the CHIP Reverse Mortgage?
The CHIP Reverse Mortgage allows Canadian homeowners age 55+ to access up to 55% of their home's value and turn it into tax-free cash without having to move or sell and no monthly mortgage payments required!
Our convenient, secure (and now contactless!) process means you can complete the entire application from the comfort of your own home from application through to electronic signature!
Why get a CHIP Reverse Mortgage?
The value of your home has grown over the years and makes up a good portion of your net worth. The CHIP Reverse Mortgage allows you to turn some of your home equity into tax-free cash. You can access up to 55% of its value. The amount that you can access is based on several factors such as; your age, property location, home type and appraised home value.
Benefits of CHIP Reverse Mortgage
Tax-Free Cash
The money you borrow is tax-free cash and does not affect the benefits you may already be getting.
No Monthly Mortgage Payments
There are no monthly mortgage payments required, however, you are required to ensure your property taxes and insurance are kept up to date.
Stay in the home you love
A reverse mortgage allows you to access the equity in your home without having to move or sell! So you can enjoy retirement your way, in the home you love!
Live Retirement Your Way!
Use the funds however you desire, renovate your home, pay off debts, travel, or anything else you want, the choice is yours!
Eligibility Requirements
Homeowner Age 55+
$250,000 Minimum Home Value
Must be Your Primary Residence
Get your free estimate




What Our Customers are Saying About Us
Discover How Reverse Mortgage Works
How Much Does a Reverse Mortgage Cost?
Reverse mortgages are commonly mistaken for charging a lot of upfront costs. In reality, the CHIP Reverse Mortgage has many of the same costs as a traditional mortgage in Canada such as an appraisal fee, legal fees and an administrative fee. And while our rates are a little higher than a traditional mortgage, the CHIP Reverse Mortgage provides homeowners with tax-free cash upfront without the requirement of monthly mortgage payments!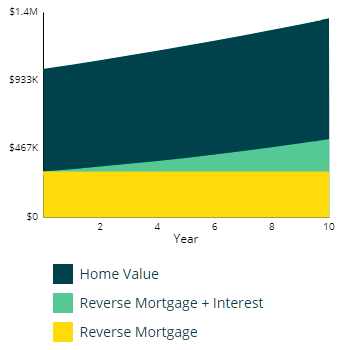 Home Equity Calculator
Concerned that a reverse mortgage will erode your home equity over time? On average, CHIP customers have over 50% of the value of their home left to enjoy after repaying the loan. Try our calculator to see how your home equity will change over time.
Try Home Equity Calculator
Is a Reverse Mortgage Right For Me?
Many retirees take out a reverse mortgage to boost their retirement income, pay for home renovations, pay for health care expenses or to help them pay off debt while staying in their current home. Regardless of circumstance, we believe that you should live retirement on your terms, in the home you love!