Starting Your Journey to Financial Resilience
Reaching your financial goals involves more than choosing the right investments. Often, it's the small steps you take that will make a big difference to your financial health. Like paying yourself first. And eliminating high-interest debt.
In these engaging videos, Pattie Lovett-Reid, one of Canada's most trusted financial commentators, shares tips on how to strengthen your financial footing by doing the little things right. With a blend of modern insights and age-old wisdom, Pattie's bootcamp offers actionable advice to help you get ahead in today's ever-evolving economic landscape.
The Importance of Financial Wellbeing
Understanding your financial wellbeing is your first step to taking control of your finances and living a better retirement. Canadians 55+ have a unique set of circumstances that make having a strong sense of financial wellbeing especially important. Many Canadians 55+ are retired and on a fixed income. Without any more pay cheques coming in, practicing good financial habits is critical.
In fact, a recent report from the National Institute of Ageing, Healthy Outcomes, demonstrates that having greater financial security plays a significant role in both the physical and mental wellbeing of older adults. Asking questions, improving your financial literacy, and being aware of your finances are the first steps towards improving your financial wellbeing. What else can you consider?
Is a Reverse Mortgage Right for You
Retirement is becoming more and more expensive. In an ever-changing economic environment, it's more important than ever for retired Canadians to consider all of their financial options. For Canadians 55 and older who own their home, these options include a reverse mortgage. A reverse mortgage is a loan designed exclusively for Canadian homeowners aged 55+ secured against the value of their home. With a reverse mortgage, Canadian homeowners aged 55 and older can access up to 55% of their home value in tax-free cash without any regular monthly mortgage payments.
What Reverse Mortgages Can Be Used For
Unlike many conventional loans, which have to be for a specific purpose (such as a car loan) the funds you receive from a reverse mortgage can be used for absolutely anything. Here are some of the most popular ways Canadians use the money from a reverse mortgage:
Stay in your home and avoid having to move, sell or downsize
Boost retirement income and cash flow
Help relatives financially (for example, to buy a home or pay for a wedding)
Renovate your home (often to make much-needed improvements or help with mobility issues)
Pay off high interest debts
Travel more often
Buy a second property
Cover health expenses, including in-home care
Finance the kind of retirement you've always dreamed of
Cover unexpected expenses
READ OUR TOP RESOURCES ON FINANCIAL LITERACY
x
DON'T MISS OUT!
Get the latest news, retirement tips, and special offers sent right to your inbox.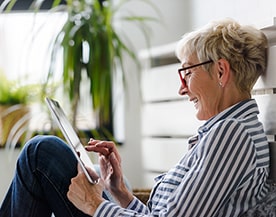 x
Your details have been successfully submitted.
Check your inbox for future updates.