About us
About CHIP Reverse Mortgage®
For over 35 years, HomeEquity Bank has provided the CHIP Reverse Mortgage® to Canadian homeowners aged 55+. It is a safe and secure financial solution that enables homeowners to access the equity in their home without the need to move or sell. CHIP empowers our customers to live retirement their way, in the home they love.
CHIP Reverse Mortgage at a Glance
CHIP Reverse Mortgage:
Allows you to access up to 55% of the appraised value of your home in tax-free cash.
Gives you options for a lump sum payout or scheduled advances over time.
Offers flexibility to use the loan for any number of purposes- the choice is yours!
Does not burden you with any monthly mortgage repayments – the loan becomes due only when you decide to move or sell your home.
Ensures that you stay in the home you love and retain its full ownership.
CHIP Reverse Mortgage is a simple, effective and stress-free solution that enhances your quality of life and helps to give you the retirement you deserve. We want to help Canadian homeowners live in the safety and comfort of their homes, because there is no better place to retire than home!
Vision, Values and Goals
Our vision is to empower all Canadian homeowners to live retirement their way.
Who says you have to leave your home when you retire? We believe that as a Canadian homeowner, you have earned the right to enjoy what you have invested in. CHIP Reverse Mortgage focuses on helping you realize your home's true value without needing to sell to benefit from that value. With the ability to access up to 55% of the value of your home in tax-free cash, you can retire on your terms.
Our mission is to help Canadian homeowners stay in the home they love, until they are ready to leave on their own terms.
We know that the vast majority of Canadians want to stay in the home they love into retirement, and the importance of aging in place to their wellbeing. CHIP Reverse Mortgage is designed to help Canadian homeowners aged 55+ do just that, by allowing you to access up to 55% of the appraised value of your home in tax-free cash, and to use that cash as you see fit.
Our values
Excellence in products and services: Our goal is to deliver exceptional products with customer-centric services and experiences that build trusting relationships.
Professional conduct: We understand the emotional challenges of transitioning into retirement, and the importance of financial anchors in navigating this journey. The impact of our products in enriching retirement lifestyles makes us determined and principled about the work we do in helping Canadians aged 55+ through their retirement years.
Care and respect: At HomeEquity Bank we are dedicated to helping Canadians aged 55+ live a more comfortable retirement in the home they love. We believe in helping to educate Canadians about the home equity solutions available to them, and helping them make a decision that is right for them. We promise to always listen carefully, offer useful information, respect your privacy and to never apply pressure.
We are deeply committed to our values, and align our products, processes and services around these core beliefs. As a responsible Federally Regulated Schedule I Bank, we prioritize your safety, security and comfort.
Our history and heritage
Here's a brief look at the history of reverse mortgages and how CHIP has contributed to the development of this popular retirement finance product in Canada
1400

Since the early 1400s, it was commonplace for Europeans who did not have sufficient retirement finances to sell their homes to investors, with an arrangement to live rent-free in the home until they passed away. Upon their death the investors would sell the home and keep the proceeds, or find a new paying renter.

1929

During the Crash of 1929 and the Great Depression that came immediately after, financial experts in the UK created a product called Home-Equity Reversion. Homeowners sold all or part of their home to a reversion company in exchange for a rent-free living arrangement in their own home until they died.

1979

Over the next 50 years, several versions of reversion products sprung up across Europe, eventually reaching North America in the 1970s. These products were called 'Home Equity Conversion Loans', or 'Reverse Mortgages'.

1986

In 1986, a chartered accountant named William Turner introduced a different variant of the reverse mortgage to the residents of Vancouver, British Columbia. Founded as the Canadian Home Income Plan (CHIP), this version of the reverse mortgage allowed Canadian homeowners 55+ to retain full ownership of their homes, along with access to a portion of their home's equity for fortifying their retirement finances. CHIP's many advantages for homeowners made it a popular product, which was later evolved and offered by financial companies in the U.S, U.K., Europe, and Australia.

2002

In 2002, CHIP changed its name to HomEquity Income Trust and became a publicly traded company on the TSX under the stock symbol "HEQ.UN".

2008

In 2008, HomEquity Bank rebranded and changed its name to "HomeEquity Bank."

2009

In 2009, HomEquity Income Trust changed its name to "HomEquity Bank" when it earned a place in the list of Chartered Schedule I Canadian Banks.

2012

Since 2012, HomeEquity Bank has been championing the financial needs of Canadian retirees with simple and effective financial products that contribute to a safe and secure retirement.
CHIP continues to cater exclusively to the financial needs of Canadian retirees
In a study done by HomeEquity Bank through Ipsos, it was clear that 9 out of 10 Canadian retirees preferred to remain in their current home through their retirement years. Maintaining an independent lifestyle, staying close to family or friends, remaining in a familiar community and a strong emotional attachment to the home are among the many reasons older Canadians wish to continue staying in their homes.
CHIP Reverse Mortgage allows just that. With a presence across Canada, our products have helped tens of thousands of Canadian homeowners achieve financial stability, as well as stay in the homes they love.
Some of the key advantages of our products are:

Retain ownership of your home:
There is no change in title or transfer of ownership to HomeEquity Bank. When it is time for you or your heirs to repay the loan, you have a number of options to service the debt.

Protect your home equity:
Your age, property type and home location are key factors in assessing the loan amount, which can be up to a maximum of 55% of your home's appraised value. Our conservative lending practices ensures that you will never owe more than the fair market value of your home1,2.

Enjoy the appreciation in your home value:

Interest accumulates only on the sum borrowed. In fact, over 50% of our customers have money left over post repayment of the loan.

Get No Negative Equity Guarantee1,2:
CHIP Reverse Mortgage is a non-recourse loan. On the rare occasion that your home's value depreciates to below the loan amount, you or your heirs are not liable to make the excess payment. HomeEquity Bank will cover the difference as part of our No Negative Equity Guarantee.
Must maintain property, pay property taxes and homeowners' insurance, and abide by your mortgage obligations.
The guarantee excludes administrative expenses and interest that has accumulated after the due date.
CHIP products and services
x
x
DON'T MISS OUT!
Get the latest news, retirement tips, and special offers sent right to your inbox.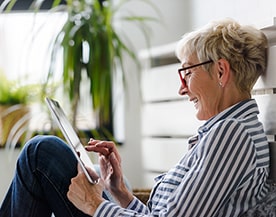 x
Your details have been successfully submitted.
Check your inbox for future updates.