Conditions of Use
By visiting this website, you agree, without qualification, to be bound by these terms of use. You further agree that the terms set out shall be governed by the laws of the Province of Ontario, Canada.
Accuracy of Information
While HomeEquity Bank makes every reasonable effort to ensure the information on this website is correct, it does not guarantee that information is current, accurate or complete. Content is provided without warranty, either expressly or implicitly. HomeEquity may modify information at any time without prior notice.
Liability
HomeEquity, its affiliates or any party involved in creating, producing or delivering the website will not be held responsible for any damages of any kind arising out of your use of the website or its information.
Privacy
HomeEquity Bank adheres to high security measures on its website. However, we have no control over the privacy of your internet e-mail communication with us. HomeEquity will not be responsible for any damages you may suffer if you transmit confidential or sensitive information to us through e-mail.
Hyperlinks
Our website contains links to other sites owned by third parties. HomeEquity Bank has no control over, and is not responsible for, the content of these other sites. HomeEquity will not be responsible for any losses suffered in visiting those sites.
Trademarks
Certain names, logos designs, titles, graphics, phrases, or words at this website may constitute a trade name or trademark or other form of copyright of HomeEquity Bank or its related entities. Any display of a trademark, trade name, or copyright does not imply that a license or privilege of any kind has been granted and unauthorized use of such trademark, trade name, or copyright is strictly prohibited.
Viruses
HomeEquity Bank assumes no responsibility and shall not be liable for any damages or viruses that may infect your computer equipment or other property as a result of your use of the website.
Products
Products and services described in this website are subject to the terms and conditions of agreements specific to these products and services.
*Conditions apply
x
x
DON'T MISS OUT!
Get the latest news, retirement tips, and special offers sent right to your inbox.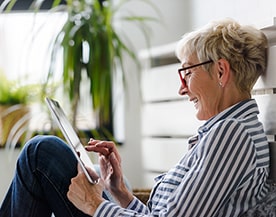 x
Your details have been successfully submitted.
Check your inbox for future updates.