How can you use the CHIP Program?
The CHIP Program includes flexible reverse mortgage options to fit your unique needs and help you retire in the home you love. Select the product below to review your options and find out all the ways CHIP can help you live retirement on your terms.
Benefits of the CHIP Program Canada
The CHIP Program is designed for Canadian homeowners aged 55 and older who want to live retirement on their terms. If you're like most Canadian homeowners 55+, much of what you own fits into two categories – the equity in your home and the money you have saved. It is likely that the value of your home has grown over the years and makes up a large portion of your net worth. And, while it is positive that your home has built value, this value is not accessible unless you decide to sell your home.
The CHIP Program allows you to access up to 55% of its value without having to sell your beloved home. And, best of all, you don't have to make regular mortgage payments until you eventually move or sell. Additionally, the money you borrow is tax-free and it does not affect the Old-Age Security (OAS) or Guaranteed Income Supplement (GIS) benefits you may be getting. As the homeowner, you are required to maintain your home and remain current on property taxes and homeowners' insurance. To recap, the CHIP Plan is suitable for people who don't want to access equity from their home without moving and improve their monthly cash flow. With the CHIP Mortgage, you always remain on title and retain ownership and control of your home.
Progress Bar
Your information is protected, and we will only use it to contact and serve you. It will not be shared with third parties.
Discover CHIP Reverse Mortgage Products!
Select a product below to find out more
Frequently Asked Questions:
Where can I receive reverse mortgage counseling and get more detailed information from a reverse mortgage professional?
For reverse mortgage counseling, please give us a call at 1-866-758-2447 and we can walk you through any of your questions or concerns. Our reverse mortgage professionals are available weekdays from 8:30 AM to 5:00 PM (EST) to answer any questions you may have. 
For detailed information about CHIP Reverse Mortgages, download our FREE information guide. 
What are the pros and cons of the CHIP Program?
There are several factors to consider before deciding to proceed with a reverse mortgage. As with any big decision, it's helpful to speak to family and friends and fully understand the pros and cons of the reverse mortgage in Canada. Some of the pros and cons include: 
Pros: 
You receive the reverse mortgage funds as tax-free cash that does not impact your

Old-Age Security

(OAS) or Canada Pension Plan (CPP) payments, and you can spend the money any way you like!

 

You stay in the home you love and maintain ownership and control of your home. All you must do is maintain your property and pay your property taxes and homeowner's insurance.

 

There are no monthly mortgage payments required until you decide to move or sell your home.

 

The CHIP Program is a non-recourse loan which means that, at the time of repayment, you (or your estate) will never owe more than the fair market value of your home – our No Negative Equity Guarantee – as long as you have maintained your property taxes and insurance.

It is your choice how you receive the funds from the CHIP Plan. You can receive it all at once in a lump sum or in scheduled advances over time – it's up to you!

 
Cons: 
Because there are no monthly mortgage payments required, interest rates for the CHIP Plan tend to be higher than that of a traditional mortgage option.

 

The balance of the loan increases over time as does the interest on the loan.

 
How do I qualify for a CHIP Reverse Mortgage?
To be considered eligible for a reverse mortgage in Canada, and to determine the amount of a reverse mortgage that you qualify for will depend on the following factors:
A Canadian homeowner
Aged 55 or older (if you have a spouse, both of you must be at least 55 years old to be eligible)
Location of your home
Type of home (for example, detached, condo, townhouse, etc.)
Appraised value of your home (minimum appraised value of $250,000)
The condition of your home
The amount of home equity
How are the fees and interest rates for a reverse mortgage calculated?
CHIP Reverse Mortgage interest rates are available in both fixed and variable terms. The variable rate will fluctuate as it is directly influenced by the Bank of Canada's prime rate. If the Bank of Canada's prime rate increases, for example, your Reverse Mortgage interest rate will also increase. Our fixed rates are set for a pre-determined timeframe and are available for a six-month, 1-year, 3-year or 5-year period. 
The closing fee charged by HomeEquity Bank for most clients is $1,795, although individual circumstances do vary. The closing fee is deducted from the proceeds of the mortgage, instead of being paid out of pocket. The closing fee covers legal, administrative costs, discharging any prior mortgage and registration of the CHIP Reverse Mortgage. 
Learn More about CHIP's fixed and variable Reverse Mortgage Interest Rates. 
Am I able to get a CHIP Reverse Mortgage with a low credit score?
Yes, The CHIP Reverse Mortgage is designed specifically to assist Canadian homeowners 55+ and improve their financial situation. While your credit score is a consideration, we take a holistic view of your financial history. The loan amount you're approved for is also based on factors like your age, the appraised value of your home, its location, and your personal debts.
What is the maximum amount you can get from a CHIP Reverse Mortgage?
Multiple factors such as age, location, and the appraised value of the home affect the maximum amount of the CHIP Reverse Mortgage. After all factors are considered, the maximum amount you may qualify for is up to 55% of the value of the home. 
How does repayment of the reverse mortgage work?
You are not required to make any payments on a CHIP Plan until you choose to move or sell your home. You are, however, required to ensure that your property taxes and homeowners' insurance are kept up to date. When you do decide to move or sell, the loan is repaid from the proceeds of the sale of the home. After the loan is repaid, all remaining money belongs to you and your estate. On average, CHIP customers have over 50% of the value of their home left to enjoy after repaying the loan. The exact amount will depend upon several factors, including: the value of your home, the amount of your loan, and the amount of time that has passed since you took out the loan.
Will I have to pay taxes for the additional retirement income?
No, a reverse mortgage is considered tax-free income, thus Medicare or pension benefits will not be affected.
For more information, and to see what your Reverse Mortgage can be worth, try our Reverse Mortgage Calculator.
For more questions, please see our complete list of Frequently Asked Questions or call 1-866-758-2447 to get your questions answered by a reverse mortgage professional.
x
The CHIP Reverse Mortgage is exclusively for Canadians 55 and older. Based on your information, you are not eligible at this time. We invite you to visit our partner's site RATESDOTCA, to receive quotes for alternative solutions that may better fit your needs.
GET YOUR FREE QUOTE
You'll be redirected in few seconds. Please don't exit this window

We are now Transferring you to Rates.ca to complete your Quote.
The website you are being redirected to, its contents, products, information and links contained therein are not owned or controlled by HomeEquity Bank or any of its subsidiaries. Therefore, we are not liable for any damages relating to your use of the third party website or any of its products and services.
X
The Reverse Mortgage Facts You Need to Know!
Read about the pros and cons of a reverse mortgage to see if it is right for you.
x
x
DON'T MISS OUT!
Get the latest news, retirement tips, and special offers sent right to your inbox.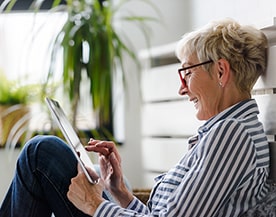 x
Your details have been successfully submitted.
Check your inbox for future updates.