The CHIP Reverse Mortgage® (once called The Canadian Home Income Plan) is 100% Canadian, provided by HomeEquity Bank, a Federally regulated, Schedule 1 Canadian Bank. It was founded in 1986 and has since been serving Canadians for over 30 years. HomeEquity Bank understands the needs of Canadians age 55 and over. With a conservative approach to our lending practices, HomeEquity Bank provides Canadians with the security and high regulatory standards that come with being a Canadian bank.
Benefits of the CHIP Program
The CHIP Program is designed for Canadian homeowners age 55 years and older who want to live retirement on their terms. If you're like most Canadian homeowners 55+, much of what you own fits into two categories – the equity in your home and the money you have saved. It is likely that the value of your home has grown over the years and makes up a large portion of your net worth. And while it is positive that your home has built value – this value is not accessible unless you decide to sell your home. The CHIP Program allows you to access up to 55% of its value without having to sell your beloved home. And best off all, you don't have to make regular mortgage payments until you eventually move or sell. Additionally, the money you borrow is tax-free and it does not affect the Old-Age Security or Guaranteed Income Supplement (GIS) benefits you may be getting. As the homeowner, you are required to maintain your home and remain current on property taxes and homeowners insurance. To recap, the CHIP Plan is suitable for people who don't want to move but would like to improve their monthly cash flow. With the CHIP Mortgage you always remain on title and retain ownership and control of your home.
Progress Bar
Your information is protected, and we will only use it to contact and serve you. It will not be shared with third parties.
How can you use the CHIP Program?
The money received from the reverse mortgage can be accessed in one lump sum or in planned advances – it's your choice! If you have an existing mortgage or home equity line of credit, the funds received must first be used to pay off the existing loans secured by your home. The remaining cash can be used for whatever you like – here are some example of how customers of the CHIP Program have used their money:
Pay for home improvements or repairs
Cover your regular expenses
Pay for travel
Pay for healthcare expenses
Pay-off existing debts
Help your children with an early inheritance
Read about how our customers have used their CHIP Plan funds with our customer reviews
Qualifying for the CHIP Program:
To be eligible for the CHIP Program you must be:
A Canadian homeowner
Age 55 or older
The home must be your primary residence
Please note: If you have a spouse, both of you must be at least 55 years or older and you must both be listed on the CHIP Reverse Mortgage application
When you apply for the CHIP Program, we will consider the following factors:
Your property type, condition and appraised value
The location of your property
You and your spouse's age
In general, the older you are and the more equity you have in your home when you apply for the CHIP Plan, the more money we should be able to lend you.
Repayment of the CHIP Program
You are not required to make any payments on a CHIP Plan until you choose to move or sell your home. You are however, required to ensure that your property taxes and homeowners insurance are kept up to date. When you do decide to move or sell, the loan is repaid from the proceeds of the sale of the home. After the loan is repaid, all remaining money belongs to you and your estate. On average, CHIP customers have over 50% of the value of their home left to enjoy after repaying the loan. The exact amount will depend upon several factors, including: the value of your home, the amount of your loan, and the amount of time that has passed since you took out the loan.
What Are the Pros and Cons of the CHIP Program?
There are several factors to consider before deciding to proceed with a reverse mortgage. As with any big decision, it's helpful to speak to family and friends and fully understand the pros and cons of the reverse mortgage in Canada. Some of the pros and cons include:
Pros:
You receive the reverse mortgage funds as tax-free cash and you can spend the money anyway you like!
You stay in the home you love and maintain ownership and control of your home. All you must do is maintain your property and pay your property taxes and homeowners insurance.
There are no monthly mortgage payments required until you decide to move or sell your home.
The CHIP Program is a non-recourse loan which means that at the time of repayment, you (or your estate) will never owe more than the fair market value of your home – as long as you have maintained your property taxes and insurance.
It is your choice how you receive the funds from the CHIP Plan. You can receive it all at once in a lump sum or in scheduled advances over time – its up to you!
Cons:
Because there are no monthly mortgage payments required, interest rates for the CHIP Plan tend to be higher than that of a traditional mortgage option.
The balance of the loan increases over time as does the interest on the loan.
Learn more about how a reverse mortgage works
x
DON'T MISS OUT!
Get the latest news, retirement tips, and special offers sent right to your inbox.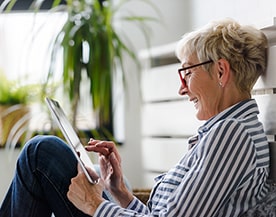 x
Your details have been successfully submitted.
Check your inbox for future updates.
X
The Reverse Mortgage Facts You Need to Know!
Read about the pros and cons of a reverse mortgage to see if it is right for you.
x
Confirm
We are sorry, the CHIP Reverse Mortgage is only available to Canadians 55+. We invite you to compare quotes on products with our partner, RATESDOTCA, where your age qualifies.
Continue
You'll be redirected in few seconds. Please don't exit this window

We are now Transferring you to Rates.ca to complete your Quote.
The website you are being redirected to, its contents, products, information and links contained therein are not owned or controlled by HomeEquity Bank or any of its subsidiaries. Therefore, we are not liable for any damages relating to your use of the third party website or any of its products and services.