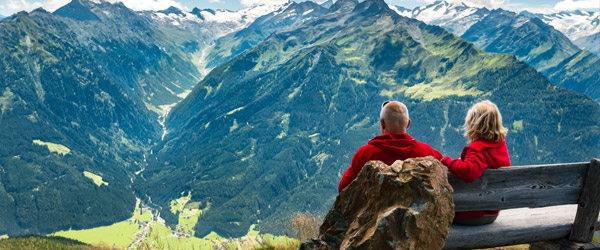 Travelling to Enhance your Retirement Years
In 2011, a shift in consumer trends began as the first baby boomers turned 65. Over the next couple of decades, we will start to see the senior population double. According to Statistics Canada, by 2036, 25% of the population will be over the age of 65.
Travel is a component of successful aging for seniors and the baby boomer generation. This trend for senior travel encourages social engagement by incorporating meaningful activities with the act of maintaining close relationships with others. As the need for travel continues to grow, the demand for new travel options for unique senior vacations are emerging.
Travel is one of life's most enhancing experiences. It increases our knowledge, broadens our perspectives and provides us with a form of cultural and self-discovery. For seniors, travel helps retain optimal health by enhancing the quality of life. If you are a senior and you are thinking of travelling to an exotic place this year, there are many places that are suitable for a senior vacation getaway. Below is a listing based on a combination of popular travel destinations from seniors compiled from online sources as well as the convenience factor of proximity to Canada.
Caribbean

The Caribbean can be reached within a day of travelling from anywhere in Canada. The currency is US and the locals speak English. There are also a wide variety of tropical escapes to choose from when deciding on a Caribbean adventure. Seclusion is a highly sought-after reason for senior vacations. The white sands and private beaches provide seniors with a classy and luxurious paradise, away from the wild parties that most all-age resort destinations have.

Some of the popular Caribbean destinations for seniors include:

St. Maarten
Grand Cayman
St. Thomas
Bahamas
Anguilla
Barbuda
Turks and Caicos
Montego Bay, Jamaica
Nevis Island

Alaska

As the largest U.S. state, Alaska is best enjoyed by cruise ship. It offers breathtaking scenery, beautiful sunsets, whale watching and incredible mountainous views. An Alaskan cruise provides all of the convenience of travel on a cruise ship and allows you to enjoy the breathtaking views without having to battle the elements of the cold.

Canadian Rockies

Living in one of the most beautiful countries in the world, Western Canada is a sight for sore eyes. With the incredible national parks of Banff and Jasper, Lake Louise and the breathtaking natural wonder of the Columbia Ice field and Athabasca Glacier – not to mention, along the way, you're sure to spot some of Canada's most iconic wildlife like the elk, mountain goats, bears and deer. Western Canada will give seniors an unforgettable vacation with memories to last a life time. VIA Rail offers the ultimate Canadian Travel experience, offering breathtaking landscapes and attentive service on board "the Canadian" tour, one of the most popular train journeys offered by VIA Rail.
The Best Way To Travel To Get The Most Out Of Your Senior Vacation
By Cruise Boat

– Cruise traveling is very convenient. Combining room/board and a variety of restaurants to choose from. Since these key elements of travel are included, cruise travelling is also considered a cost efficient way to vacation, costing far less than booking each of the elements of travelling independently. Excursions to visit each city are also planned for your convenience as well as having great entertainment aboard (from shows, dancing, sunning/swimming, exercise classes to simply relaxing and reading). Cruises can be one of the best ways to vacation in large groups and to visit multiple cities.

Train

– Travelling by train gives you the full experience of seeing scenic and rural areas of your vacation destination. It also gets you straight to the heart of nature without the potential dangers of environment and weather.

All Inclusive Vacation Packages

– Travelling to the Caribbean can be very costly with the expense of hotels, meals, as well as the cost of flying there. With an all-inclusive package, flight, hotel, meals and an unlimited variety of drinks are all bundled into your travel package, making your vacation that much more enjoyable. Tip: Make sure that when you plan, you choose a resort that suits your needs. Ie: choose an all-inclusive resort catered to seniors to lessen the possibility of vacationing with other families with babies and teenagers. This way you can enjoy your vacation and relax with other seniors on vacation.
For more senior vacation ideas, speak to your travel agent or find a good online provider of senior vacations and do your research before you book! Many of our customers have used the proceeds from a reverse mortgage to finance vacations they wouldn't have otherwise been able to enjoy. For more information on how you can finance your vacation, take the first step and get a no obligation guide to find out how a reverse mortgage can help get you on your way to a much deserved vacation!