This second article from our reverse mortgage in Canada series will delve into the details of the process of obtaining a Canadian reverse mortgage.
You have now done research on the CHIP Reverse Mortgage in Canada. You are convinced this is the right product for you and your family and you are ready for the next steps.. What comes next?
Initial Phone Meeting

You or your financial advisor will arrange an initial phone call with a specialist to further discuss HomeEquity Bank's products and to decide which product will work for your situation. You are also free to ask any question that may clear up any confusion you may have at this point. The specialist is here to help you understand the process of applying for a reverse mortgage.

Home Appraisal

Once you have had your initial phone meeting, your home appraisal will be scheduled. At this time, you will also need to submit copies of ID for you and your spouse (if applicable).

Reverse Mortgage Qualified Amount

Your home appraisal is now complete and your appraisal report in hand. The HomeEquity Bank specialist will now confirm the reverse mortgage funds amount you have qualified for. Remember, this amount is determined by a number of factors including:

You and your spouse's age (if applicable)
The type of home (townhouse, condo, freehold etc.)
The location of your home
The condition of your home (Your property taxes must be up to date. Any outstanding amounts will need to be covered by the reverse mortgage loan.)

Confirm Your Reverse Mortgage Loan Amount And Interest Rate Option

You can now decide on what amount you would like to draw on (based on your qualified amount). You will also need to decide on the interest rate option you prefer, based on your term (6 month, 1 year, 3 years, 5 years or variable). You will receive your disclosure package shortly after this call.

Select A Lawyer To Obtain Independent Legal Advice

The specialist will confirm with you all of your terms, conditions and costs associated with your reverse mortgage. You will also select a lawyer to obtain independent legal advice and to sign your legal documents.

Legal Process

Your disclosure and your application acknowledgement form will be signed and submitted to HomeEquity Bank's administrators. At this point, your legal documents will have been prepared and sent off to your lawyer. After a few days, schedule an appointment with your lawyer to pick up the finalized forms.

Funds Become Available

Once your legal documents have been signed and sent back to HomeEquity Bank, the specialist will call you upon the availability of your reverse mortgage funds.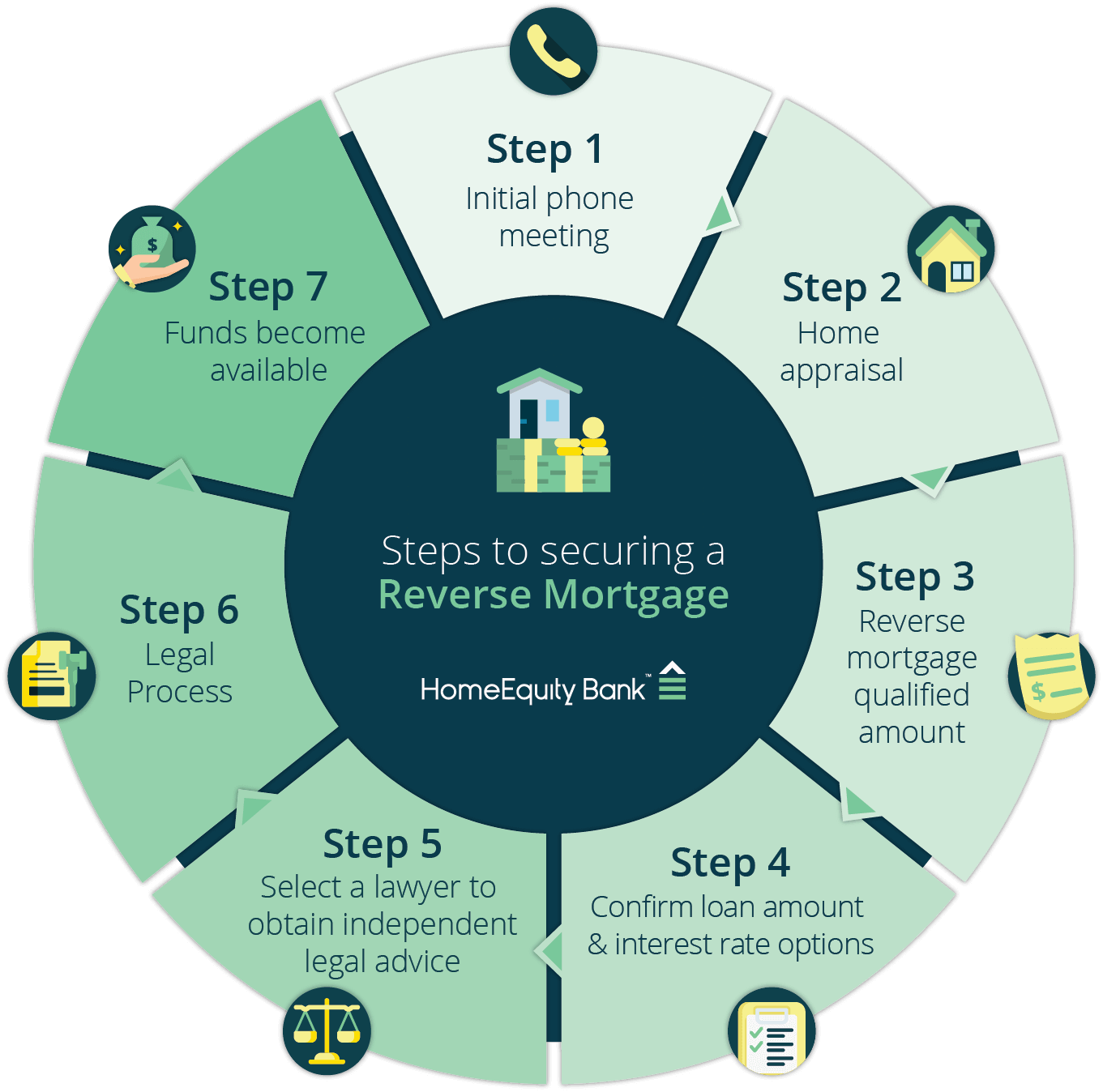 You now have access to tax-free cash from your reverse mortgage. Make sure you budget and plan how you will spend the extra money. The next article from our reverse mortgage in Canada series will go further into the statistics on what Canadian reverse mortgage clients typically use their funds towards. Even though the choice is up to you, it is interesting to see how many of our clients take out a reverse mortgage for similar reasons.