Living well in retirement isn't as easy as most people envision when they're in their youth. Utilities, medical payments, prescriptions, insurance and just day-to-day living expenses often increase more rapidly than pensions, dividends and interest income. Even when you own your home, making ends meet at the end of the month can be a challenge for seniors. That's where a reverse mortgage can help many Canadian seniors aged 55 and older.
What Is A Reverse Mortgage?
How does a reverse mortgage work?
How can I qualify for a reverse mortgage?
What is a reverse mortgage?
These are just some of the questions that can arise while considering a reverse mortgage. A reverse mortgage is a financial product that allows Canadian seniors (age 55 and older) to tap into the equity that they've accumulated in their home. For many people, that equity is their largest single asset. Homeowners can access only up to 55 percent of their home equity as reverse mortgage, as long as they remain in that home. The exact amount a homeowner will receive depends on the property type, location, the home's value, and the age of the applicant(s).
To qualify for a reverse mortgage in Canada, homeowners must use the residence as their primary home, maintain the property is good standing, stay up to date with insurance, continue to pay property tax and pay off any outstanding debts secured with the home with the proceeds from the CHIP Reverse Mortgage. Unlike other mortgages and loans, there is no health check or minimum income required with a reverse mortgage.
You will never be forced to sell or move as a result of changing home values or earning. The amount that you or your estate eventually has to repay will never exceed the fair market value of your home at the time it is sold. There's no reason your home should ever be a burden to you or your family. The loan will be recalled only if the last homeowner passes away or moves out of the home.

Find out how you can access up to 55% of your home's value in tax-free cash!
Using Reverse Mortgage Funds Wisely
There are almost no conditions on how you use the proceeds of a reverse mortgage loan and homeowners are not required to make payment towards the interest or principal of the loan. This is often not the case with other types of loans or mortgages such as a Home Equity Line of Credit, or HELOC, that requires regular payments. Just a few of the smart ways how Canadian seniors can use reverse mortgage funds include:
Make improvements to your home.

Keeping up with your home's maintenance is essential to having a safe and secure living environment. If you've had to put off things like replacing your roof or replacing your heating system, the funds from your reverse mortgage loans can help make these essential updates possible. Canadian seniors can also use their loan proceeds for other upgrades, such as adding a deck, replacing countertops and/or remodeling the kitchen.

Pay down debt.

High interest rates from credit cards can make it tough to ever get fully out of debt. You can get rid of some of your monthly bills by using your reverse mortgage funds to pay off those high credit card balances.

Pay off medical bills.

If a recent illness has wiped out your savings and left you with a pile of bills, a reverse mortgage can give you the funds to pay off all of those bills and allow you to sleep better at night.

Pay for leisure activities.

You can use your reverse mortgage to engage in leisure activities in retirement or enhance your lifestyle. This could include travel to various destinations – local or abroad or indulge in favorite hobbies, which may require monetary investment.
If you choose to take out a reverse mortgage loan, you keep the deed to the property. You only have to give up ownership of the house if/when you move out or sell the property. You can stay as long as you stay current on your taxes, maintenance and insurance. There's no maximum length of time that you can live there.
Advantages Of A Reverse Mortgage Loan
A reverse mortgage loan offers a number of advantages to Canadian seniors. First, the funds you receive are completely tax-free. In addition, you can use the money any way you choose; pay off bills, remodel the house, or take a much needed vacation. Lastly, there are no payments required!
Applying For A Reverse Mortgage Loan
Canadian seniors can apply for a reverse mortgage loan from HomeEquity Bank, the only provider of the CHIP Reverse Mortgage.
In order to qualify…
You (and your spouse) must be 55 or older
You must use the property as your primary residence
The balance of any existing mortgage or lien against the property must be paid off by the proceeds from the reverse mortgage (or by other funds before the reverse mortgage is taken)
Your home is in a location and of a type that HomeEquity Bank typically lends on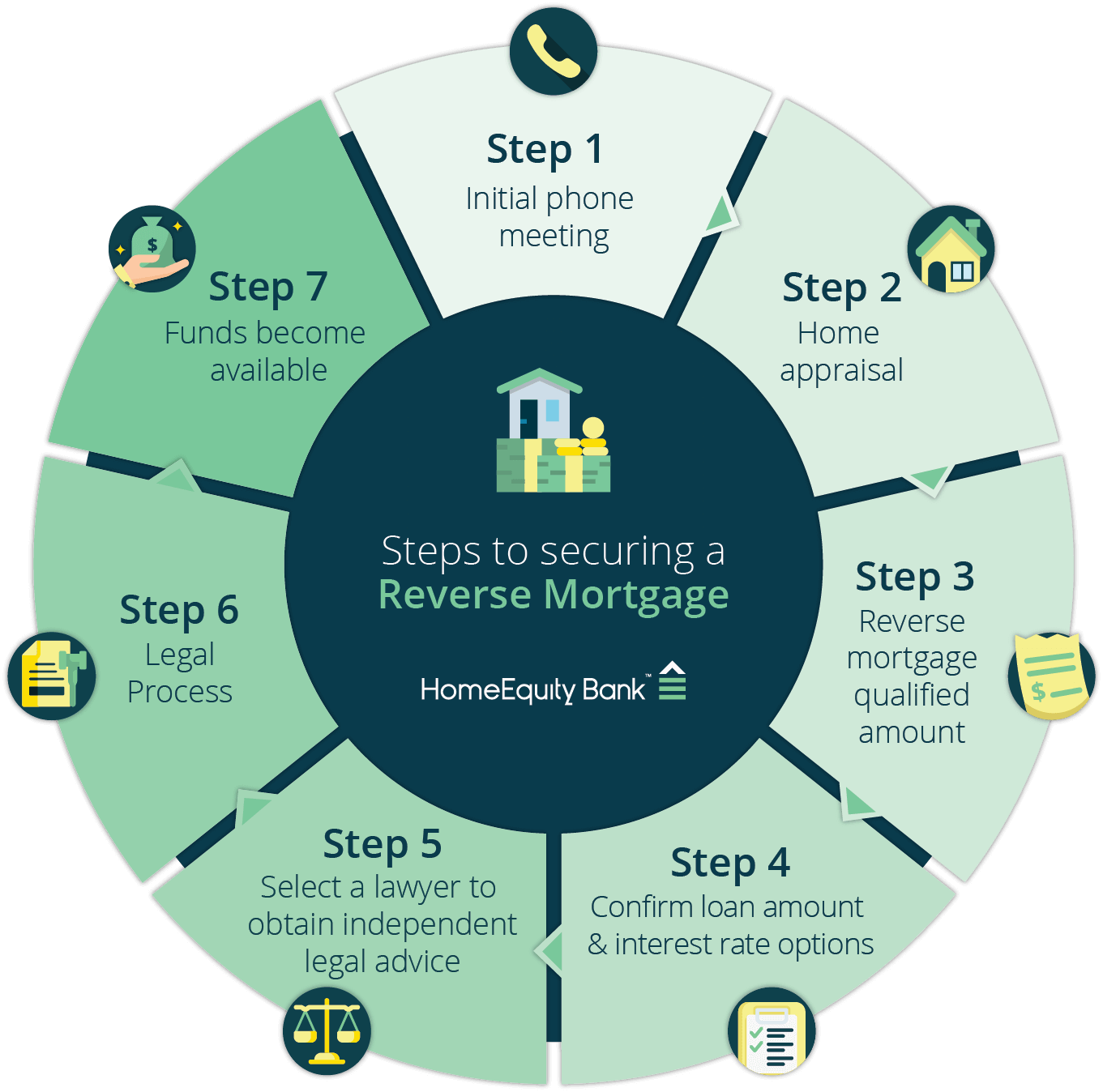 CHIP Reserve Mortgages
Reverse mortgages for Canadian seniors are a little different from reverse mortgage products sold in the United States. All reverse mortgages in Canada are provided by HomeEquity Bank, a Canadian Schedule 1 bank. The CHIP Reverse Mortgage has been assisting seniors for more than 25 years. Homeowners can get the proceeds from a reverse mortgage loan in a lump sum or in periodic advances. A reverse mortgage can be one of the choices for Canadian seniors looking for a way to supplement their monthly income. This financial product can help you get rid of debt, make necessary improvements to your home, or assist with day-to-day expenses. If you are a Canadian homeowner, age 55 or over, get your free CHIP Reverse Mortgage guide.
X
The Reverse Mortgage Facts You Need to Know!
Read about the pros and cons of a reverse mortgage to see if it is right for you.