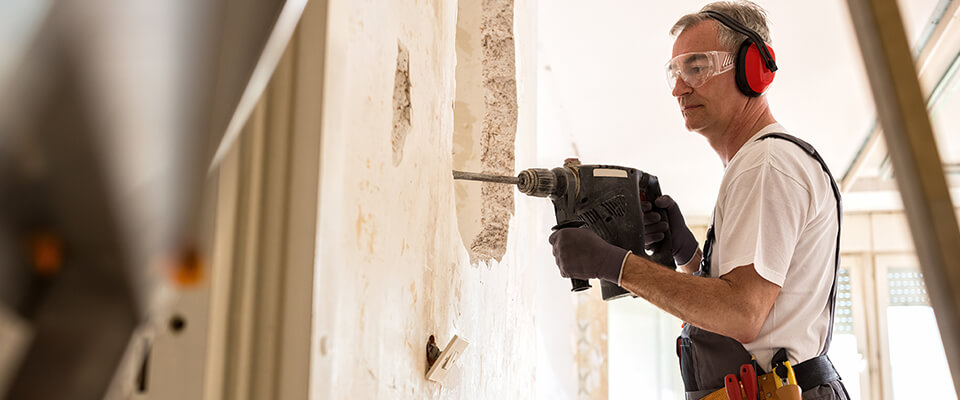 Home Improvement tips to help you stay in your home
There are plenty of reasons why people want to stay in their homes as they enter their retirement years. Familiarity with the neighbourhood, having friends and family close by and wanting to maintain their independence are all high on the list.
Aging at home often means having renovations carried out so that growing mobility needs are met. While it may cost thousands of dollars to pay for some of these renovations, when compared to the cost of living in assisted housing, it may seem like a bargain. In 2017, according to the Canadian Mortgage and Housing Corporation, the average annual rent for a standard seniors' housing unit was $42,312 per year*. This was across Canada, so people living in big cities may pay substantially more.
We've put together some home renovation tips to help you prepare your home for your growing needs, along with advice on finding contractors, applying for grants and borrowing money for renovations.
What home renovations might you need?
The bathroom is often the trickiest room in the house for people with mobility issues. Some people choose to have a new, accessible bathroom installed on their first floor, especially if they had no bathroom there before.
Walk-in showers, fold-down shower seats, raised toilets and grab bars are all improvements that can make your bathroom a safer place as you age.
If you or your spouse relies on a walker or becomes wheelchair-bound, there are several renovations that will make living at home a lot easier.
Expanding the width of doorways, installing ramps for entranceways, adding stair lifts or home elevators, and having threshold-free doorways will all help make your home more accessible.
Lowering your kitchen countertops and installing lever-style doorknobs can also make your home more convenient and easier to navigate.
Finding a suitable contractor
Working with builders with experience of mobility issue renovations is essential. Good contractors experienced in this field will work with your therapist to make improvements that function for everyone living in the home. They also know which grants are available and will help you access them.
The National Association of Home Builders has a list of certified, aging-in-place specialists (CAPS) that you can see here. Alternatively, you can search online for "aging in place renovations" and include the name of your city.
Softening the financial blow with grants
There are provincial and municipal grants available across Canada to help pay for a variety of renovations needs.
For renovations specifically geared towards improving your home's accessibility, programs like the Home Adaptations For Independence program in BC and Nova Scotia's Home Adaption for Seniors' Independence program provide financial help.
They offer grants or forgivable loans (whereby you don't have to repay the loan if you stay in the home for over six months) of between $3,500-20,000.
The Toronto Renovates program for seniors also provides up to $15,000 in forgivable loans to cover essential repairs like heating, plumbing and electrical.
Search online for "renovation rebates" and include the name of your province.
Borrowing money for renovations
Even with grants or provincial loans, the chances are you will need a considerable sum of money to adequately renovate your home for your needs.
If you qualify—and if you can afford the monthly repayments—a line of credit or personal loan could work.
However, if you would rather have a loan that won't have an impact on your disposable income, The CHIP Reverse Mortgage® is a great option. You borrow based on your home's equity and don't have to make any regular mortgage payments.
Find out how the CHIP Reverse Mortgage® could provide the funding for renovations that you need. Call 1-866-522-2447 to learn more.