Looking for affordable places to retire in Canada?
All set to hang up your boots and move to the next phase of your life? Looking for the best places to retire in Canada? Whether you browse newspapers and magazines, or carry out a simple internet search, you may find hundreds of write-ups listing the best places for retired Canadians to live. From safety and walkability scores, to real estate prices and property taxes, each list may consider varying factors to arrive at their lists and ranks.
However, before you scour through multiple lists, evaluate whether your current town or city is a great place to retire and spend your golden years. Ask yourself whether you really need to relocate.
It is important to retire in a good place
Living the ultimate retirement dream involves staying in a place that allows you to tick off most items on your wish list. Does your current location in Canada offer:
Proximity to family and friends?
Affordable housing and healthcare facilities?
Activities and entertainment that you enjoy or wish to explore?
If all of the above and more positive factors are already in place, then all you need to do is plan your long-term living arrangements. Make your home suitable for aging-in-place, or review alternative retirement living options to spend the later years. With robust financial planning, you may even be able to invest in a second home that you can use as a vacation home, at a location of your choice. For a trial run, consider renting it out during the high season, and enjoy an extended stay there during the off season. Not only can you make a little extra money, but you can also take your time to decide if the place has the appeal to become your primary residence.
If you answered 'No' to any of the questions about your current location, then you may want to seriously consider moving after retirement. Read on to know more about the best places for retirees to live in Canada, and the critical factors that make a city or town most suitable for retirement living.
Top 5 aspects to look for in a place to retire in Canada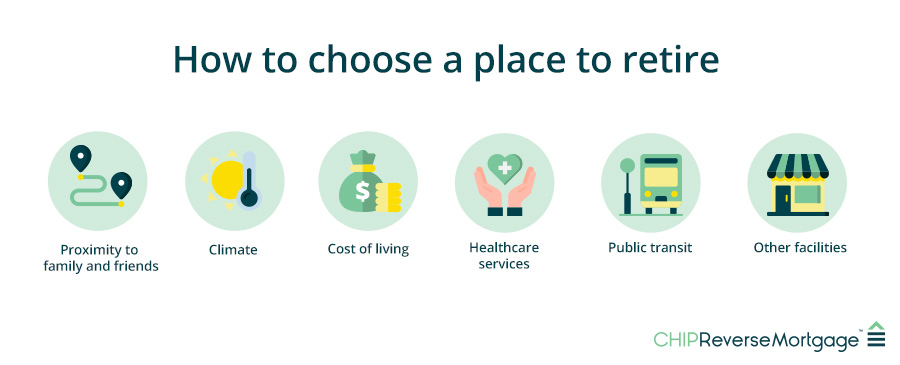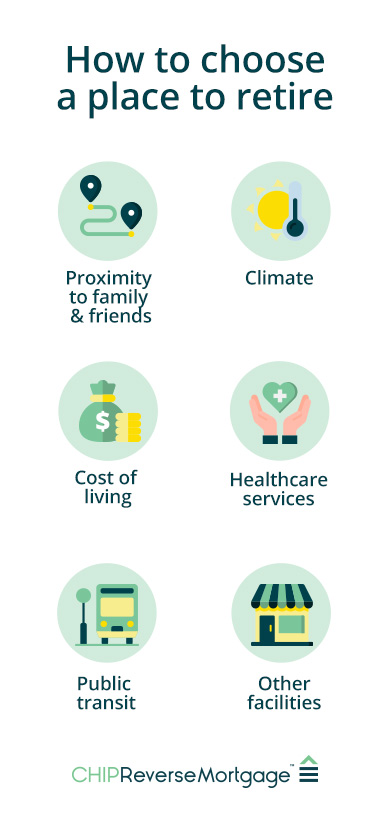 There are a number of factors that go into determining the best place to retire in Canada. While every criteria may not be relevant to each individual, here are the broad aspects that most people consider:
Climate: While parts of Canada may offer milder winters, they may also see more rain throughout the year, or higher levels of humidity that are not suitable for older Canadians with certain chronic ailments. Whether it is a personal preference, or a health-related consideration, climate or weather conditions tend to rank among the key factors that help determine your choice of a retirement destination.
Cost of living and taxes: The cost of food, transportation, housing, and other living expenses can make or break your retirement dream. Whether it is buying versus renting a home, using public transport versus driving, frequent eating out versus cooking at home, or hiring professional services versus D-I-Y projects, will you be able to afford your preferred options? Are there any tax breaks for Canadians 55+? Are property taxes in the area reasonable?
Healthcare services: Does this location feature quality healthcare, nursing facilities and assisted living options, if required in your later years? Will you be able to afford prescription drugs, or other out-of-pocket medical expenses that are not covered under the provincial health insurance benefits?
Public transit: Will you have access to safe, low-cost, and easy-to-use transportation? Does the public transit system cater to people with old age issues, or mobility challenges?
Other retirement-friendly facilities: From cultural aspects and crime rates, to access to community centres and other entertainment amenities, there are many other aspects that determine the best places in Canada for retirees to live. In fact, most of us tend to undermine the criticality of certain everyday conveniences, until they are absent. For example:

Will you have easy access to grocery stores, malls, and other retail services?
How close is the nearest hospital, mall, gas station, café, or restaurant?
Are there enough affordable options for hiring home maintenance professionals, such as landscapers, electricians, plumbers, painters, carpenters, and such, if required?
Are there diverse opportunities for socializing, recreation and enjoying a rich community life?
Choosing the right retirement place is essentially about two overarching themes:
Does the place you are considering offer the same level of safety, comfort and conveniences that you have become accustomed to up until your retirement?
When you take your nest egg and move to this location, will you be able to afford the retirement lifestyle you want?
Canada's best places to retire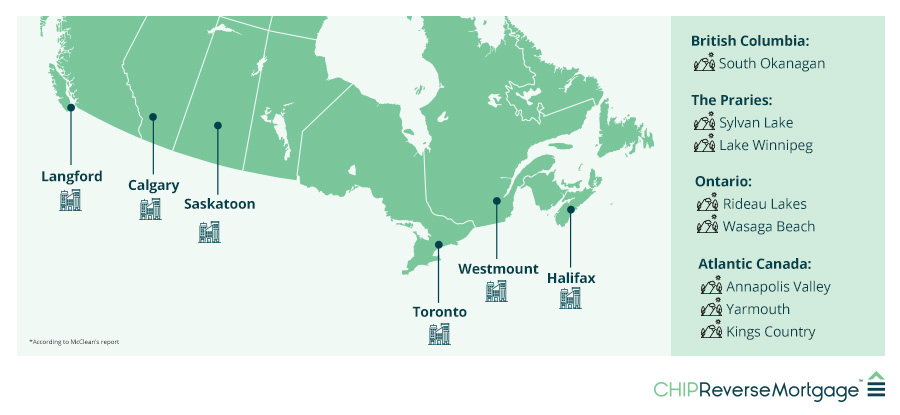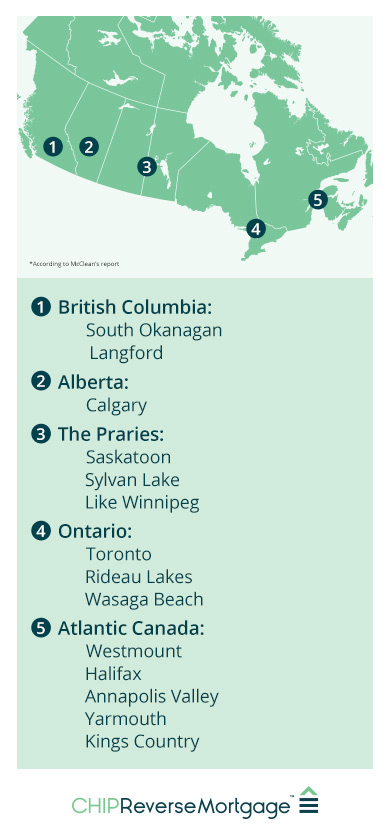 In addition to the practical aspects of choosing a retirement place, you may have several other personal preferences. If more than a few locations seem appealing to you, it is best to visit these places and experience them first-hand. It is not just about shortlisting your favorite place, but also about determining the most suitable neighbourhood within that town or city. Remember, crime rates in certain areas are higher than the rest, hence, you cannot rely on nationwide or provincial statistics alone. Researching specific neighborhoods, contacting the local police, or speaking to the local real estate agents will give you a far more accurate picture on the ideal place to retire.
In a recent Maclean's Report, some of the best communities to retire in Canada by region are:
Atlantic Canada: Halifax
Quebec: Westmount
Ontario: Toronto
Prairies: Saskatoon
Alberta: Calgary
BC.: Langford
If you already reside in metropolitan centres, such as Vancouver, Calgary, Toronto, or the Greater Toronto Area (GTA), a cross-country move may not make much sense. This is especially true if you are looking for a marginal change of pace, along with better recreation facilities, and a quality lifestyle. Consider trading your high-value urban residence in favour of these attractive, less expensive communities that consistently feature among the best places to retire in Canada.
Ontario: Rideau Lakes and Wasaga BeachCottage country's cost-effective approach and waterfront lifestyle offer many perks for retirement living. With a host of country clubs, golf courses, nature trails, and wellness retreats, both communities score high on entertainment and amenities for retirees. Easy access to Blue Mountain's magnificent ski slopes and immersive social and cultural experiences make these locations even more popular with Canadian retirees.
British Columbia: South OkanaganWith a scenic valley, sunny climate, and a plethora of outdoor activities, the South Okanagan region is a highly coveted destination for retirees seeking an active lifestyle. Areas around Okanagan Lake offer a vibrant promenade, quick access to surrounding wineries, and opportunities to reside in beautiful golf course communities. Due to South Okanagan's cheaper cost of living, retirees across Vancouver, Edmonton and Calgary consider it a hot spot for spending their golden years.
The Prairies: Sylvan Lake and Lake WinnipegFrom parks, campgrounds and white sandy beaches, to diverse shoreline communities with unique cultural experiences, these locations have much to offer for an active and engaged retirement lifestyle.
Atlantic Canada:The Atlantic provinces are some of the fastest growing retirement destinations, offering many attractive places to live after retirement.

Annapolis Valley and Yarmouth: From relaxing beaches and lush vineyards, to bustling parks, trails, and waterfront activities, these incredibly diverse and culturally rich locations are some of the best places to live after retirement. In addition to their scenic beauty, they also offer a number of heritage sites and year-round music and food festivals.
Kings County, Nova Scotia: Ontario retirees are often attracted to the sunny skies, milder temperatures and relaxing ambience of Kings County in Nova Scotia. With picturesque settings and thriving wineries and microbreweries, this is an excellent retirement hub for those who wish to engage in farming or maintaining vineyards.
Summerside, PEI: A highly sought after and picturesque location, Summerside is Prince Edward Island's second largest city. With its lively downtown core, active social scene, and affordable lifestyle, this economically advanced hub is one of the most well-connected places to retire in Canada.
Miramachi, New Brunswick: A gorgeous riverside city, Miramachi boasts several marinas and waterfront activities. You can enjoy a balanced lifestyle in this inexpensive social and cultural hub, making it one of the best places to live on retirement income.

Live your retirement dream without selling the home you love. Find out how much cash you qualify for.
Balanced retirement lifestyle for low-income Canadians
Contrary to popular belief, Canada offers a number of affordable places for retirees living on a pensioner's income. Moncton in New Brunswick, Lacombe in Alberta, Stratford in Ontario and Brandon in Manitoba are some of the best places for low-income Canadians to live during their retirement years. These locations offer inexpensive real estate and low-cost public transit, without compromising on healthcare facilities, infrastructure, and social and cultural offerings. If you aren't keen on the small-town feel, consider Halifax, which offers all the above conveniences, along with an urban environment.
Fulfill your retirement dream with the CHIP Reverse Mortgage®
No matter when you decide to begin the next phase of your life, after years of working hard, raising a family, and paying bills, you deserve to enjoy your desired retirement lifestyle. Whether you are still searching for the best place to retire in Canada, or you are ready to move to your chosen location, the CHIP Reverse Mortgage from HomeEquity Bank could help you get there.
With a CHIP Reverse Mortgage, you can access up to 55% of the value of your home in tax-free cash without the burden of any monthly mortgage payments, while retaining full ownership of your home. From covering monthly expenses, home renovations and travel, to paying off debt, buying a new home, property taxes or medical bills, you can use your reverse mortgage for whatever you choose.
Moving to one of the best places to retire in Canada? Finance your dream retirement with a CHIP Reverse Mortgage and live your retirement on your terms. Call 1-866-522-2447 to find out how.