I joined the downsizing crowd with great expectations. I believed it would make my life simpler. I was thrilled at the prospect of:
having someone else responsible for shoveling the snow, mowing the lawn and doing any repairs
being able to pay down some of my debt and having money left over to invest
living in a new community with like-minded neighbours
having a beautiful view of the lake and the city
all the new amenities that I could enjoy with my family and friends and the privacy and security that comes with condo life (or so I thought)
Here's what I found:
Twelve years ago, I bought a downtown Toronto condo. Six years later when it was finally ready for the occupants to move in, a new building blocked my view of the lake. The following year, another building blocked my view of the city, and I could actually see the television screen of the condo across the narrow sidewalk that divided the buildings.
Maintenance costs were high, and increased each year I lived in the condo. Aggravation endless. I thought when the dishwasher broke down after one year, the condo would fix it. Wrong. I thought there would be a stove with range top in the party room. Wrong. Residents were expected to first cook their food and next haul it up to the 18th floor party room. Barbequing on the balcony was outlawed and that meant carrying dinner up to the 18th floor to grill and then back down the elevator to eat.
When cigarette butts were dropped by my neighbours onto my new terrace furniture, setting the cushions on fire, I thought the concierge would intervene. He didn't. When the fire alarm repeatedly went off at all hours of the night and day I initially believed the condo would investigate. It didn't.
After two years of ever-growing disillusionment with condo living, I put my unit up for sale and moved back to a house in a quieter, greener area of the GTA. Any notion that condo living was an appropriate choice for me was erased forever.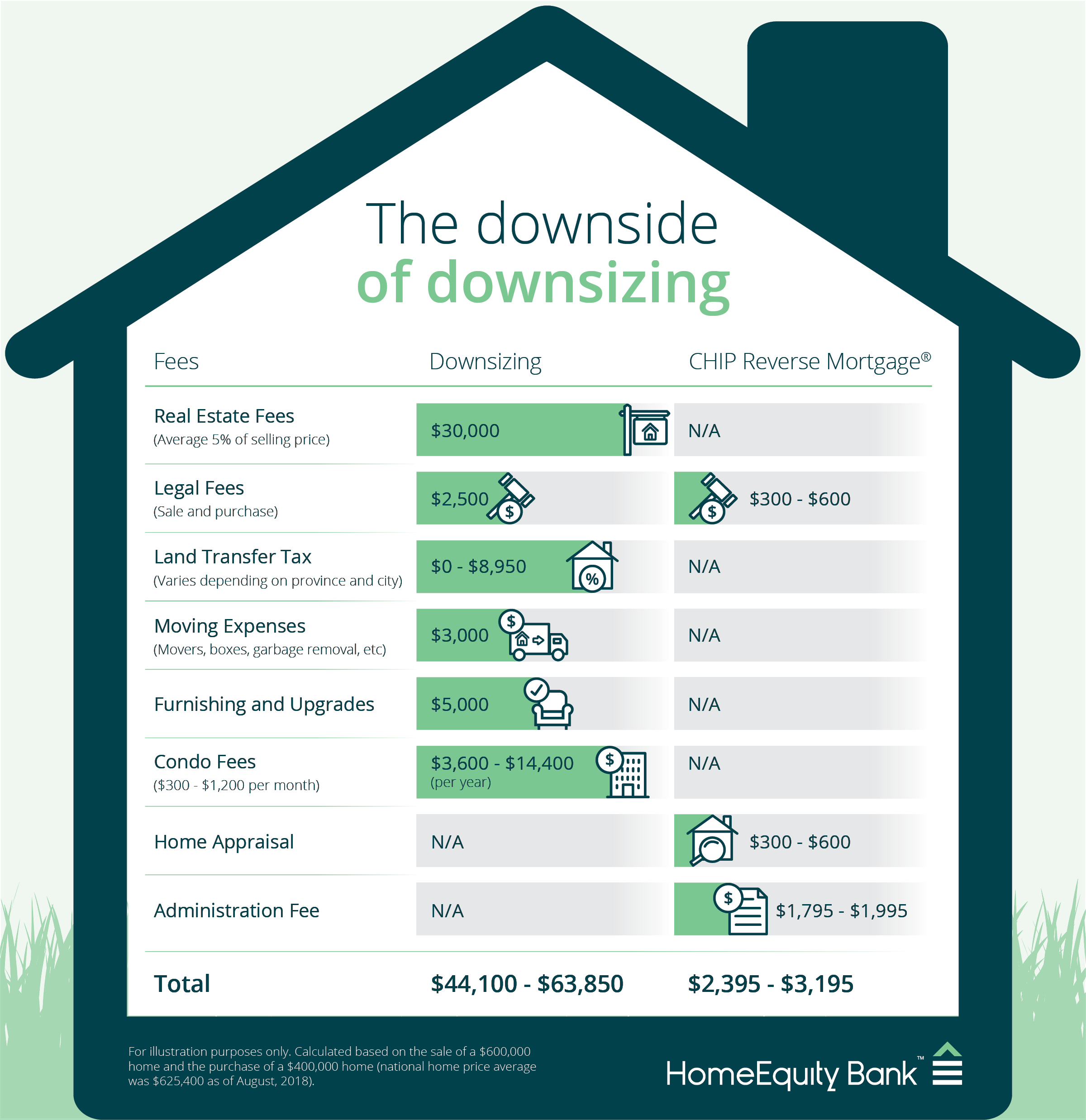 By the time I'd staged and sold my original house, paid the realtor and the mover and the lawyer, gave away most of my furniture, which was too big for the condo, my winnings were severely trimmed. Then, after I sold the condo, paid the realtor and the mover and the lawyer (again), I did manage to pay off debt, but when I returned to living in a house real estate prices had risen. I took out a new mortgage that I am still paying down to this day. It is hard to know the cost of downsizing ahead of time, but trust me, it all adds up!
In a new Ipsos poll, commissioned by HomeEquity Bank, 39% of savvy Canadians are skeptical that downsizing will save them money. They are the smart ones, who have done their homework —and the math— and figured out that staying put is not only a more frugal decision, but more life-enhancing by staying close to friends, family and a familiar environment.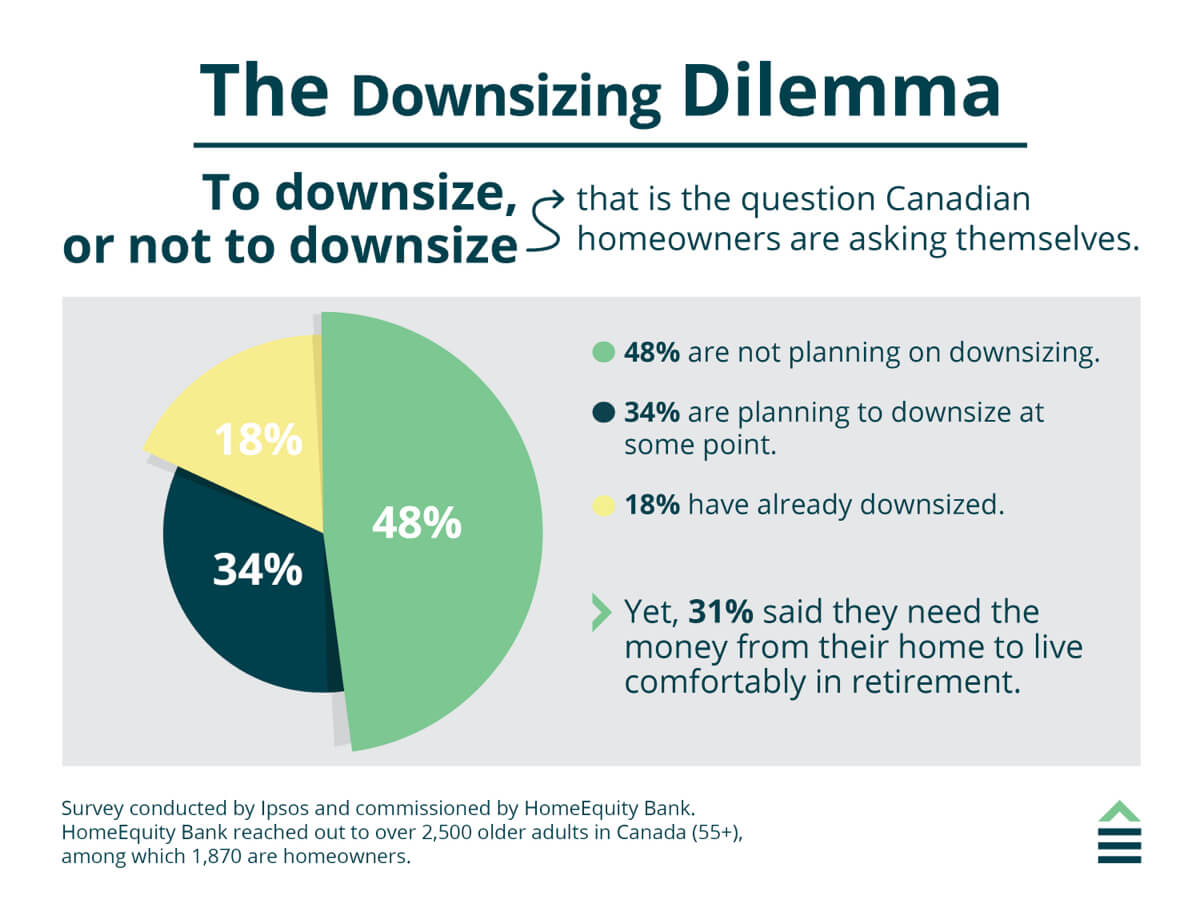 Click here to see what else the survey revealed about your peers and the downsizing dilemma.
According to this Ipsos survey, almost half (48%) of Canadian homeowners do not plan to downsize. Yet, 31% of Canadian homeowners reported they need the money from their home in order to live comfortably in retirement. So what options do they have? I wish I knew this then. There are reasonable alternatives to downsizing, such as a reverse mortgage.
Even if you're already living in a condo and wish to buy a house, but are short of funds, you can arrange a reverse mortgage on a new property.
Whenever friends talk about selling up and moving to a condo, I never hesitate to encourage them to do further research and consider other options. What looks appealing in a full-colour illustration of yet-to-be-constructed glamorously decorated units can look seductive, but might also be too-good-to-be-true.
It's true, I didn't miss mowing the lawn or shoveling the snow or having to invest in home renovations, but I longed for a green lawn with real trees, garden hedges and rows of flowers. Now I revel in the fact that I can sit on my deck drinking a cocktail at sundown, barbequing a steak, —dog by my side— and without cigarette butts falling on my head.
Make sure you know the facts and check out all your options before you downsize. Think it over before acting.