As increasing numbers of Canadians line up to receive a second jab and more older Canadians have already been double vaccinated, the time has come to emerge from our pandemic caves. After 16 months of social isolation and near-total reliance on digital media to connect with others, our moment has arrived.
As an organized person, who relies on my calendar and checks it frequently throughout the day, I'm beginning to plan. For me, planning is half the fun of doing. If the data is correct, at two to three weeks out from my second shot, I'll be able to do much more than I can today.
Survey Report on Vaccination Doses by Government of Canada
According to the government of Canada, "The data shows that after the first dose and before the second dose, the estimated efficacy of the Pfizer-BioNTech vaccine is initially 52 per cent effective, but then becomes 92 per cent effective 14-21 days after the first dose." Two weeks after the second dose of the Moderna vaccine, it will be 94 per cent effective. With the second dose of AstraZeneca, the vaccine is 82 per cent effective in preventing COVID-19 while building immunity over time.
The following chart provides a handy checklist of vaccine protection against COVID-19.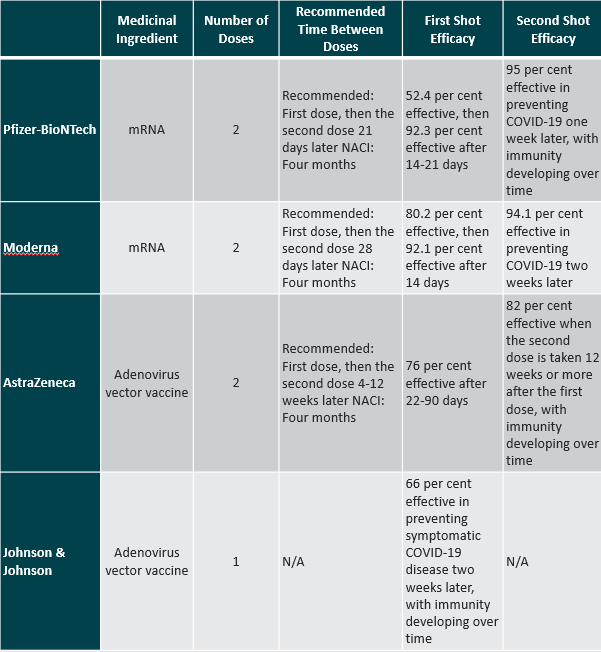 This doesn't include data on the variants.
Source: https://www.ctvnews.ca/health/coronavirus/how-long-does-it-take-for-the-covid-19-vaccines-to-become-effective-1.5402892
Asked by the Toronto Star in June about specific guidance, a spokesperson for Health Canada cited April 23 modelling from Chief Public Health Officer Dr. Theresa Tam. It's now been updated to include everyone ages 12 and up, stating that COVID-19 restrictions may start to lift based on the local disease burden and vaccine coverage.
"People across Canada are encouraged to continue to follow the advice of their local public health authority as provincial and territorial governments continue to make decisions about when to ease or reinstate public health measures in their communities," the spokesperson added.
It's wise to remember that there's a chance that "even a vaccinated person may have a mild or asymptomatic form of the virus and spread it to others, particularly the unvaccinated. That's why it's important to keep protective measures such as physical distancing and masks in place until enough of the population is vaccinated."
With some necessary precautions, my get-out-of-isolation card looks like this:
Immediate Plans
Spend in-person time with my daughter and her partner. At first glance, this idea seems simple, yet there are cautions to observe. I'll make certain my daughter and her partner have received their second dose and are two weeks out from the date of vaccination before we meet inside. Beforehand we're headed to outdoor patios for lunches and dinners.
Arrange lunch and dinner get-togethers with friends and colleagues. The same proviso stands. I'll make sure to ask when they received their second shot and that they are two weeks out from the date of vaccination before we meet.
Begin making appointments. For the last few months, I've been squinting and straining to see properly. Since I'm looking at screens throughout the day and into the night, I need an up-to-date prescription for new eyeglasses, both for long-distance and for writing on my computer. I'm off to the optometrist ASAP.
Make more appointments. It's high time to have a general physical with my family doctor. As soon as it's allowed, I'm all in. For those of us who have prolonged routine medical tests until after the second vaccination, there is no reason to put them off. Likewise, with dental appointments.
Plans for the next few weeks
The minute my hairdresser re-opens her shop, I'm there. A cut and colour are so long overdue that I can only fantasize of what the full service will look and feel like.
I never thought I would say this, but I miss shopping. Even grocery shopping looks like fun from where I sit today. No more ordering the weekly food supplies and picking them up curbside. I'm looking forward to selecting my own fruit and vegetables and hunting for bargains that are hard to find on grocery store websites. Chatting with the cashiers is all part of the in-person pleasure.
Bookstores and libraries are high on my list of public places to visit. Nothing beats searching for new titles when the shelves are right in front of your nose.
Shopping for clothes and for shoes is an earthly delight that I've missed. I'm imagining the shoes I'll be trying on. Heading to the shoe department might actually belong on my immediate priority list.
Plans for the next few months
When the time comes, and it's safe to do so, I'm going to throw a dinner party —or two. The guest list is wide open, but I'm already planning what I'll serve. I can't wait to see guests around my dining room table toasting our first drink together.
I don't have expectations about travelling abroad, but substituting road trips close to home can be great fun. So I'm planning two to three-day road trips to destinations close by. My husband and I have already booked a dreamy little hotel near Lake Huron for our first outing in July. If you're thinking of getting away this summer, it's prudent to book now. What I noticed is that cottage country is already booked solid.
Last but not least is attending live theatre. Just as much as I enjoy the convenience of a good drama or comedy on my television screen, I long for the real thing: seeing a live theatre performance. There is nothing like it. If the theatres in Ontario don't open shortly, we'll watch some of the best of Canadian theatre going under.
I'm sure I'll come up with more and more "priorities" as the days to vaccination freedom grow closer.
Be sure to evaluate your personal health to estimate how far you can emerge after your second vaccination. Everyone's situation is different, and there's no point in taking needless risks once you've come this far through the pandemic.
Be safe and have fun.
Joyce