Chapter Two: The Reverse Mortgage Advantage
If you're like me, I'm often up late at night worrying about how to ensure that my retirement will be a comfortable and secure one. These are the questions that keep me awake into the early hours of the morning:
Will the funds I've accumulated during my career last for my lifetime?
If I become ill, will I be able to afford the care I need?
When should I begin divesting my assets as I age, and what accounts should be cashed out first?
Are there alternatives to cashing out my assets?
How can I leave a legacy for my daughter and my husband?
Older Canadians face these questions at some point, although I'm pretty sure most of us don't like to dwell on them until the harsh realities of aging present themselves. Since the crisis in long-term care homes intensified as COVID-19 spread throughout many facilities, it's been a wake-up call for older Canadians who once thought that public or private long-term care homes were an answer to our fears about aging. It has prompted many of us to put more thought into the idea of aging in our own homes.
If you're interested in exploring how to make aging at home a reality for you, then I highly recommend the new book by HomeEquity Bank's President & CEO Steven Ranson and Executive Vice President of Marketing & Sales Yvonne Ziomecki, Home Run: The Reverse Mortgage Advantage. It is an easy-to-read, no-nonsense primer on how to put your fears about aging to rest by considering a reverse mortgage as the solution to financial concerns.
Here's how a reverse mortgage works: It's a loan that allows you to access the equity in your home without having to sell it. The loan is secured against the value of your home. Unlike a traditional mortgage, you don't have to make mortgage payments to HomeEquity Bank until the home is sold.
The basic qualifications for a CHIP Reverse Mortgage are straightforward:
Customers must be 55 years old or over and own their home.
Everyone on the application (and home title) must be 55 years old or over.
The home must be the client's primary residence.
The home's value must be over $200,000.
If you are concerned that the reverse mortgage could affect government-sponsored pensions or that you could lose ownership of your home, you needn't be. The fact is, the money you borrow is tax-free and it doesn't affect your Old Age Security or Guaranteed Income Supplement (GIS) benefits. And you always remain on title and retain ownership of your home.
The CHIP Reverse Mortgage is a non-recourse loan, which means that at the time of repayment, you or your estate will never owe more than the fair market value of your home as long as you have maintained your property and kept it in good condition, paid your property taxes and have valid homeowner's insurance. This is HomeEquity Bank's "No Negative Equity Guarantee."
When you qualify for a reverse mortgage, you never need to worry that HomeEquity will take over the ownership of your home and you will never owe more than the fair market value of your home. Unlike a regular mortgage, you don't make regular mortgage payments on a reverse mortgage. This is the biggest benefit of the product: it allows you to stay in your home with no monthly mortgage payments. You can use the money from a reverse mortgage to pay any mortgage, debt or lien against your home.
With HomeEquity Bank offering a number of different ways to access the equity in your home, you're free to receive a lump sum of the amount you borrow as monthly advances over time. Or you can even take out a portion of the amount you qualify for and put the rest aside for when you might need it. Home Run: The Reverse Mortgage Advantage details the goods on the range of flexible products that HomeEquity Bank offers, allowing you to discern which one would suit you best.
You can find all the details on how to apply for a CHIP Reverse Mortgage on the website as well as in Home Run. I read an advance copy of the book and, as I was reading, my worries about retirement began to melt away. The book describes the methods I could employ to ensure that I remain in my home as I age—and not be forced into a long-term care facility if I should need support. It clearly describes how I can handle managing staying in my home even if I'm faced with mobility issues and how I can feel confident that I will be able to leave a legacy for those I love.
After reading Home Run, I found I could sleep better at night and, let me tell you, that's reason enough to order the book.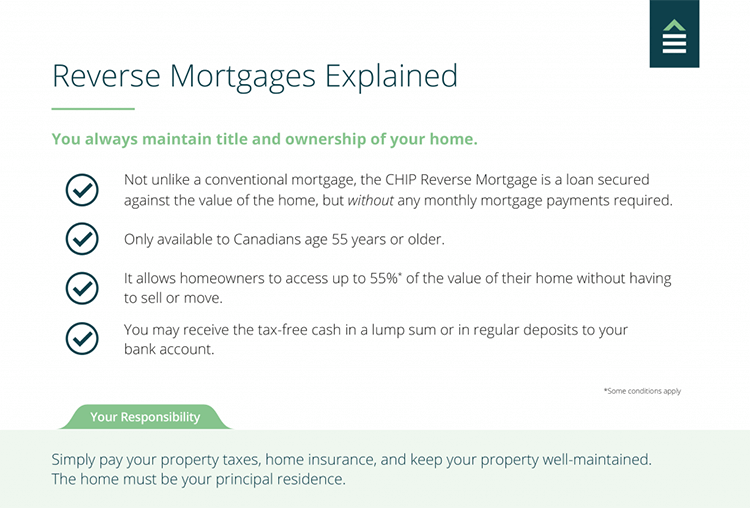 Progress Bar
Your information is protected, and we will only use it to contact and serve you. It will not be shared with third parties.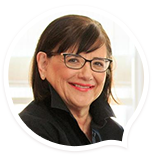 Joyce Wayne has been writing about social issues, business and culture for forty years.
This year she is publishing her second novel, Last Night of the World, a spy thriller about Soviet spies operating in Canada during World War II. Joyce is also the author of The Cook's Temptation. An award-winning journalist, Joyce is most interested in the stories of men and women trying to thrive in challenging circumstances.
Here, she is exploring matters relevant to the lives of retirees and soon-to-be-retirees facing the rapidly changing circumstances of the new retirement.
Joyce Wayne
x
x
DON'T MISS OUT!
Get the latest news, retirement tips, and special offers sent right to your inbox.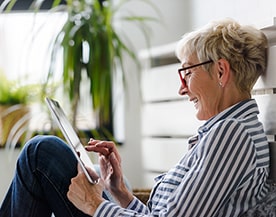 x
Your details have been successfully submitted.
Check your inbox for future updates.
x
The CHIP Reverse Mortgage is exclusively for Canadians 55 and older. Based on your information, you are not eligible at this time. We invite you to visit our partner's site RATESDOTCA, to receive quotes for alternative solutions that may better fit your needs.
GET YOUR FREE QUOTE
You'll be redirected in few seconds. Please don't exit this window

We are now Transferring you to Rates.ca to complete your Quote.
The website you are being redirected to, its contents, products, information and links contained therein are not owned or controlled by HomeEquity Bank or any of its subsidiaries. Therefore, we are not liable for any damages relating to your use of the third party website or any of its products and services.