Reverse mortgage rates are not the only factor in assessing how much a reverse mortgage will cost you. The interest rate is important, of course, but you will also need to consider the closing and administrative cost. The closing and administrative cost covers the cost of discharging any prior mortgage (if applicable) and registering the CHIP Reverse Mortgage. It is a reverse mortgage cost that is typically added to the balance of the mortgage, rather than paid out of pocket.
CHIP Reverse Mortgage Interest Rates
HomeEquity Bank Prime Rate: %
The following is a summary of the current CHIP Reverse Mortgage interest rates and terms offered by HomeEquity Bank.
term
SPECIAL RATES1
CLOSING AND ADMINISTRATIVE COSTS2
Annual Percentage Rate (APR)3
Variable4
%
$
%
1 Year
%
%
3 Years
%
%
5 Years
%
%
Other rates are available, including Variable – please call 1-866-758-2447 to learn more. If you are an existing client please click here to view our posted rates.
1 These rates are only available for new reverse mortgage originations in certain locations and are subject to meeting HomeEquity Bank's credit granting criteria. Offer may be changed, extended or withdrawn at any time without notice. Rates are adjustments off of posted rates.
2 These fees may vary based on individual circumstances.
3 APR is the estimated cost of borrowing for years expressed as an annual percentage. It is based on a mortgage of $ and includes the applicable closing costs.
4 Variable (Special) refers to the HomeEquity Bank Prime rate plus a fixed spread of %. The fixed spread is guaranteed for years.
Progress Bar
Your information is protected, and we will only use it to contact and serve you. It will not be shared with third parties.
How are Reverse Mortgage Rates Calculated?
As the leading provider of reverse mortgages in Canada, HomeEquity Bank works to ensure the rates we offer our customers are competitive and fair. Many customers ask why the interest rates associated with a reverse mortgage are slightly higher than a conventional mortgage or line of credit. While there are many myths out there, the truth is there are a few important reasons why reverse mortgage interest rates may be higher.
Unlike a conventional mortgage and almost every other lending option, a reverse mortgage requires no regular principal or interest payments

A reverse mortgage is a flexible financial solution. It will help so that you will have less cash outflow and your monthly income will not be reduced by having to pay regular interest or principal payments. The amount you owe will only be due when you decide to move or sell.1
With a conventional mortgage or line of credit, you are required to make monthly mortgage payments and if you are unable to pay, you could go into default and risk losing your home.

1

The reverse mortgage will also be 'due' if the borrower contravenes their mortgage terms or fails to meet their obligations under their reverse mortgage agreement

With a reverse mortgage, you will never owe more than your home is worth. Think of it like built-in insurance for your retirement future

Due to our No Negative Equity Guarantee2, as long as the mortgage obligations are met, the amount you will have to repay on the due date will not exceed the fair market value of your home. HomeEquity Bank will assume the difference between the sale price and the loan amount.

2

The guarantee excludes administrative expenses and interest that has accumulated after the due date.

The same funding sources that are available to banks for conventional mortgages are not available for reverse mortgages

Certain programs administered by the federal government enable the banks to fund their conventional mortgage originations at a low cost. One of the key requirements for participation in such programs is that the mortgages must have periodic cash flows, which are collected with mortgage payments. Since reverse mortgages are designed so that borrowers do not have to make any payments for as long as the loan is outstanding, HomeEquity Bank cannot participate in such programs, and as a result, its funding costs are higher than the major Canadian banks.
While our rates may be slightly higher than that of a conventional mortgage, the two products are very different and were created to provide a different solution for Canadians.
While a conventional mortgage is meant to help Canadians afford to buy a home, a reverse mortgage was primarily designed to help Canadians 55+ access cash they need while retaining ownership and title of their home. It helps them get the cash they need to live a comfortable and secure retirement, without having to worry about regular mortgage payments.
For a comparison, here's a snapshot of how our rates compare to other lending options you may be familiar with.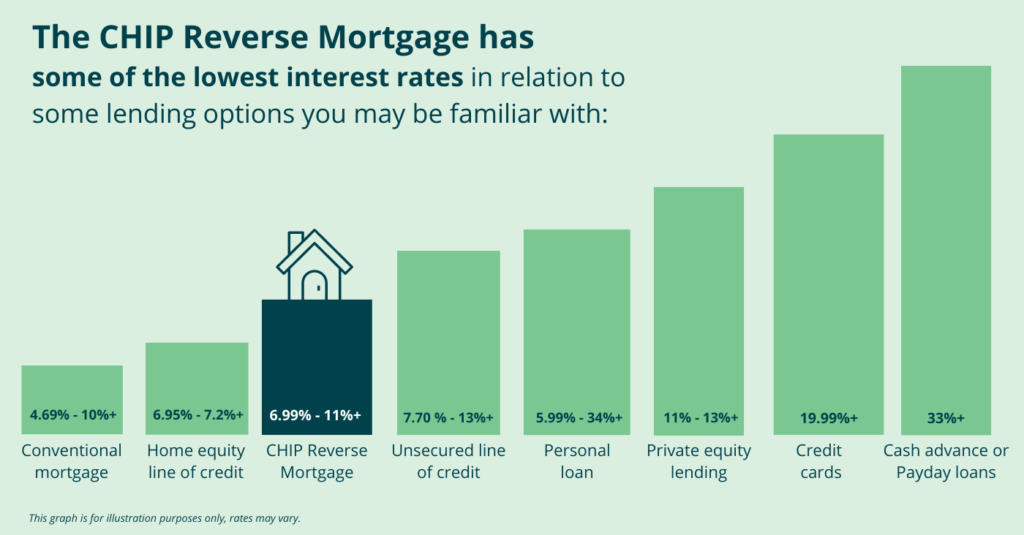 How much does a Reverse Mortgage cost?
The reverse mortgage interest rate and the closing and administrative cost are added together to determine the annual percentage rate, known as the "APR". The APR is calculated by determining what the total interest cost would be over a five-year period, then adding the closing fee, and turning that total cost into an annual rate.
Let's look at an example of how the APR is calculated for a reverse mortgage.
| Reverse Mortgage Amount | Reverse Mortgage Rate | Closing Fee | APR Calculation | APR |
| --- | --- | --- | --- | --- |
| $150,000 | 6.34% | $1,795 | Interest will accumulate on your reverse mortgage at a rate of 6.34%, compounded semi-annually. Over 5 years, the accumulated interest will equal $54,939. The closing fee is then added to that amount and averaged out over a 5-year period. That is the way that a reverse mortgage rate APR is calculated. | 6.63% |
Reverse mortgage interest rates do not affect how much money we will lend to you. For more information on what determines how much CHIP money we will lend to you, check our Reverse Mortgage Calculator. There are a few factors, including your home equity, age and location.
Types of Reverse Mortgage Rates
CHIP Reverse Mortgage rates are available in two different formats: fixed terms or variable terms. Variable term rates are determined by the HomeEquity Bank prime rate, which tends to change when the Bank of Canada adjusts its benchmark rate. A variable rate may fluctuate up or down over the course of the term, which is why it is called "variable" and is not locked in for a particular term (unlike our fixed reset terms). A fixed term rate, on the other hand, is set for a determined period, which is why it is called "fixed". The CHIP Reverse Mortgage fixed term rates are available for a six-month, 1-year, 3-year or 5-year period. Clients typically prefer longer terms, such as the 5-year, but the choice is yours!
At the end of your reverse mortgage rate term, your renewal rate will be the interest rate that is posted here when your rate term expires. Let's look at a couple of examples to understand reverse mortgage rates offered by CHIP.
Example 1 – 5-year reverse mortgage interest rate term
You have a home valued at $600,000 and you are approved for a CHIP Reverse Mortgage of $150,000. Remember, the amount we lend depends on several factors, such as your age, home value and location. If you decide to proceed, you will have a choice of reverse mortgage interest rate terms. Let's say you choose the 5-year term. Your first term interest rate will be fixed at the interest rate found in the table above. At the end of the 5 years, you will check back on this website, and your renewal rate will be what is posted in the table at that time.
Example 2 – Variable reverse mortgage interest rate term
Let's consider the same example: a home valued at $600,000 and $150,000 in CHIP money. For this example, you decide to take a variable term rate. Your initial interest rate will be the HomeEquity Bank prime rate plus the fixed spread – all outlined in the table above. If the Bank of Canada changes its prime rate, then more than likely HomeEquity Bank prime will change. Your variable rate would then change to the new HomeEquity Bank prime rate plus the fixed spread, which is guaranteed for a five-year period.
If you have any questions about the CHIP Reverse Mortgage rates or if you are interested in understanding more about Reverse Mortgage, you can check this page on How a Reverse Mortgage Works. If you have any other questions, feel free to give us toll-free call at 1-866-758-2447.
x
x
DON'T MISS OUT!
Get the latest news, retirement tips, and special offers sent right to your inbox.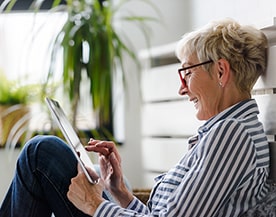 x
Your details have been successfully submitted.
Check your inbox for future updates.
x
The CHIP Reverse Mortgage is exclusively for Canadians 55 and older. Based on your information, you are not eligible at this time. We invite you to visit our partner's site RATESDOTCA, to receive quotes for alternative solutions that may better fit your needs.
GET YOUR FREE QUOTE
You'll be redirected in few seconds. Please don't exit this window

We are now Transferring you to Rates.ca to complete your Quote.
The website you are being redirected to, its contents, products, information and links contained therein are not owned or controlled by HomeEquity Bank or any of its subsidiaries. Therefore, we are not liable for any damages relating to your use of the third party website or any of its products and services.