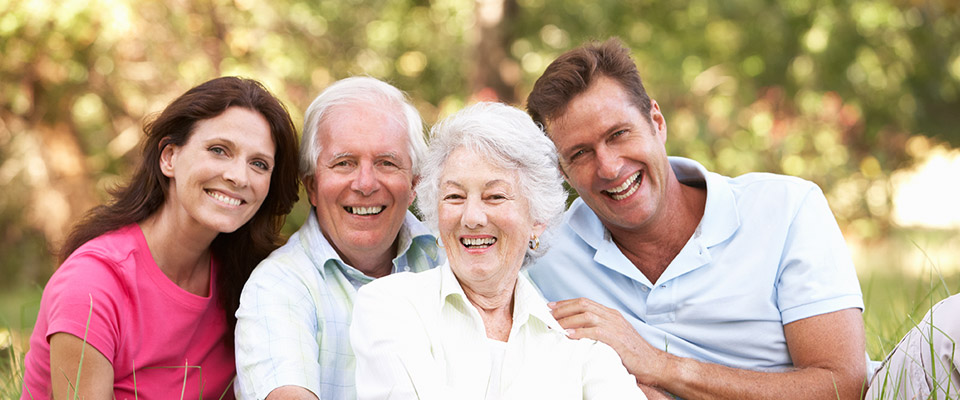 Support Aging Parents with a CHIP Reverse Mortgage
Do you have an aging parent or parents and are you concerned about their ability to be financially independent?
Adults today have many concerns to occupy their minds. Between thinking about their children and their well-being, they also can't help but worry about their parents. They act as caregivers to their children but also to their parents. As life expectancy rises for the senior demographic, aging parents are living longer and as a result, we are seeing more financial issues arise.
Many of us are concerned for our retired parent(s) and their ability to maintain their financial security. Our aging parent(s) prefer to stay in their homes and age in place, but you have noticed that they may be struggling with:
Health care costs

Your parent(s) visit the doctor more frequently and their health care costs add up.

Bills piling up

You notice that your parent(s) are struggling to pay for all of their monthly bills.

A home in need of repairs/retrofits

As your parent(s) age, their home also ages and may require repairs. At the same time, their mobility may be affected by their age and retrofits such as a stair lift may need to be installed.

Revenue Canada debt

Your parent(s) forget to submit their taxes or they struggle to pay their taxes and they are now dealing with accumulated debt.

Property taxes (in arrears)

Your parent(s) have forgotten one too many payments.
If you see signs that your parent(s) are stressed over their finances, you can help your parents maintain their independence by introducing them to financing options that may help them regain control of their finances and their retirement. CHIP Reverse Mortgages have been increasing in popularity with older Canadians because they help thousands of senior Canadians deal with the most common financial struggles they encounter. The following are some examples of how a CHIP Reverse Mortgage can help your parents.
| You notice your parents struggling with: | How a CHIP Reverse Mortgage helped: |
| --- | --- |
| Health care costs | Linda, a 71 year old widow suffered a stroke and was suddenly disabled and needed an electric wheelchair ($2,000 +) and a registered nurse ($24-$76 an hour). Linda was unable to afford these extra expenses so her daughter helped her get a CHIP Reverse Mortgage so that she can live comfortably in her own home. |
| Bills piling up | Tom (76) and Lori (69) were very anxious at the end of each month. Their children noticed that the heat was never on in their house and they could never phone their parents since the phone was off the hook. The children found out that Tom and Lori could no longer afford to pay basic utilities so they looked into a CHIP Reverse Mortgage and their parents received an extra $2500 per month in tax-free cash to pay off their bills and to supplement their cost of living. |
| A home in need of repairs/retrofits | Ernest (88) and Liz (76) are both retired at home. Ernest can no longer walk up the stairs and couldn't afford to make any upgrades to their home. They both insisted on living at home, so Ernest had made the living room couch his bed. When Jim, their son noticed, he immediately searched for a financial option. A CHIP Reverse Mortgage gave Ernest and Liz an additional $1250 each month and they were able to retrofit their home by installing a chair lift on their stairs. Ernest is now happily sleeping in his bed once again. |
| Revenue Canada debt | George (67) has been retired for 5 years. At first, his spending habits remained the same as when he was working and when tax season came around, he was too busy to remember to file. The habit of cutting expenses was also difficult since he never had to watch his spending. After many years of putting his taxes on the backburner, his accountant gave him the bad news that he owed more than $50,000 to the CRA. He was suddenly faced with the decision to sell his home in order to clear his taxes. His son noticed he was very depressed all of the time and helped him by suggesting a CHIP Reverse Mortgage to help consolidate and pay off his CRA debt. George is now much happier and finally enjoying his retirement. |
| Property taxes (in arrears) | Shirley (74) and James (85) lived in their family home for many years. After James retired, they did not manage their money well and their savings quickly ran low. It was hard to even afford basic household utilities. Their children noticed that there was a pile of letters from the government about their property taxes that were never paid. Seeing how stressed their parents were, the children spoke to a friend who suggested a CHIP Reverse Mortgage. Shirley and James received a lump sum from CHIP and were able to pay off their overdue property taxes. |
How a Reverse Mortgage can help
The CHIP Reverse Mortgage from HomeEquity Bank can provide your parent(s) with financial freedom by unlocking up to 55% of the value of their home (without having to sell or move) in either a lump sum amount or monthly advance. Get your free estimate, or contact us at 1-866-522-2447.